Experiential Learning for Critical Thinking at AIGA New Ventures, Portland
critical thinking
experiential learning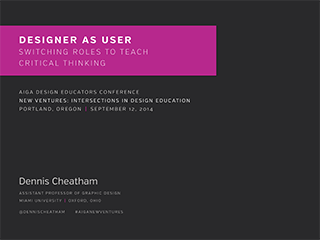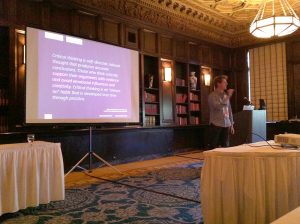 On September 12, 2014, I presented my paper Designers as Users: Switching Roles to Teach Critical Thinking in Design Education which was accepted for presentation at the AIGA Design Educators Conference, New Ventures: Intersections In Design Education in Portland, Oregon. The conference brought together design educators from the United States and beyond and it was an exciting weekend for me—both as a presenter and to hear others' curricular work and research. My paper/presentation was featured as part of a panel titled Intersections in Approaches to Teaching Critical Thinking, chaired by Michael Gibson at The University of North Texas, and alongside presenters Kiersten Nash at Public Works in New York City and Graham McLaren at Bath School of Art and Design.
Based on my research and work, I have developed the following definition of critical thinking:
Critical thinking is self-directed, rational thought that produces accurate conclusions. Those who think critically support their arguments with evidence and avoid emotional influences and creativity. Critical thinking is an "always on" habit that is developed over time through practice.
In design, critical thinking skills are essential as designers are increasingly expected to produce evidence-based work that will meet stakeholder objectives. Considering how dry that sounds, it stands that learning experiences to teach critical thinking could be equally as dry and analytical. I don't think it should be so, and in my classes at Miami University and The University of North Texas, I have designed and operated engaging learning experiences that challenge students to switch roles from that of the designer into that of the user. My research has led to my conclusion that critical thinking is far closer to behavior than it is to the analytical process, so practicing it through experiences inside and outside the classroom/studio are effective approaches for growing these skills.
Over the course of my few days in Portland, I had some enlightening discussions with other design educators, researchers, and practitioners who are shaping the future of the discipline. I found myself not wanting the time to end but was excited to take what I had learned with me into my classroom and into my research.