Mastery Rules: One Point Rubrics for Design Education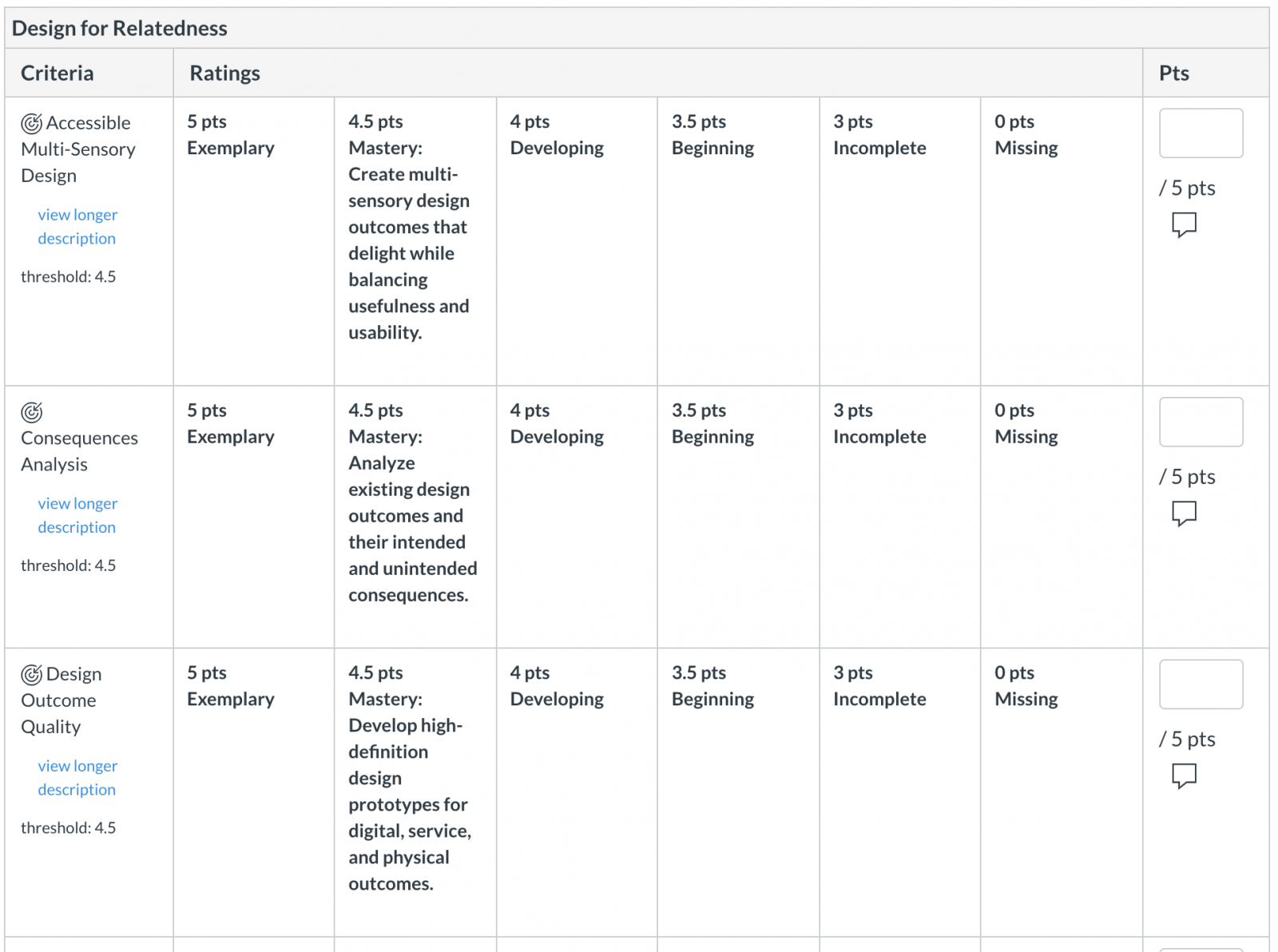 I learned a lot about learning when I studied Communication Design at Texas Tech University in the late 1990s. A few lessons stick out in my mind.
Most learning happens during critique: You learn what's working and what's not working via discussion. (If the instructor is good, you'll learn why your design works and doesn't work.)
Nobody knows how the final project grade is derived or what it means: The final project grade consists of a letter and sometimes a plus or minus written on the back of the work. How this was calculated is one of the great mysteries of the universe.
When I started teaching design as a graduate student at the University of North Texas (UNT), I became responsible for holding the aforementioned mystery of the universe. I was now the one facilitating critiques and evaluating work. Was I worthy to wield the Le Pen of fate and mark my own letters and plusses or minuses on students' work?
Clarity. Transparency. Better Learning.
At UNT, I fell in love with writing learning objectives—writing really good learning objectives. These are learning objectives that could actually be measured. I learned to avoid using words like "understand."
Understand what comprises a clearly-ordered typographic hierarchy
How am I supposed to evaluate "understand"? I can't look into students' minds and know if they understand! I applied my love of language to create learning objectives that were clear and could be evaluated. I started to use words like…
Create a clearly-ordered typographic hierarchy
Write a paragraph that clearly describes the importance of typographic hierarchy
I started writing learning objectives so students could know exactly what I was looking for. Learning objectives revolutionized the way I designed learning. You may be reading this thinking, "Dennis, learning objectives are nothing new,"… but they were new to me, and they were a game-changer.
Making the Rules of the "Game:" Point Values and Grading Quality
Learning objectives made my expectations clear, but the next step was to define levels of quality. I needed to define how many points a student would earn for each learning outcome, based on their level of performance.
Simply, I needed to make the game.
After years of teaching at Miami University, I arrived at words that defined levels of achievement that were clear. I tinkered with how many points each performance level was worth. I experimented with weighting grades. The conclusion was a set of six achievement levels whose descriptions were clear and simple. I concluded that mastery was my goal for students. If they could achieve mastery of each learning outcome, that would be a great accomplishment and something they could be proud of.
Here's how they appear in my syllabi.
Mastery is hard. "Full competency" is something worth celebrating. When I evaluate students' work at developing or beginning levels, I remind them that mastering some skills can often take years of effort. Achieving an exemplary level of performance is rare.
Setting the Standards
The points were set. Now I needed to give learners an idea of what each achievement level looked like—I needed to make them more tangible. In design, our projects and assignments can vary widely. Learners are sometimes required to conduct field research, create a mood board, and deliver a presentation, all in the same project. I created guidelines for general types of activities that are often completed over the course of a semester. Here's an excerpt from my syllabi that details achievement levels in these areas.
Notice how each of these descriptions is fairly general? They were designed that way. The assessment and performance guidelines are just that—guidelines. Learning objectives and the one-point rubric are best understood in action.
Designing for Relatedness
I am currently teaching the Experience Design Studio in the xdMFA at Miami University. This semester, learners are exploring the concept of storytelling for experience design—how people's daily lives (and their experiences) are impacted by design in real and perceived ways. I have copied the assignment sheet for the Designing for Relatedness Project into this post to demonstrate how learning objectives and achievement levels work in practice.
Project
Details
Evaluation
Guidance
Meta
Caution
In this assignment, learning objectives are clearly defined, point values are delineated, and performance measures are shared. Learners know what's expected of them, all in one page. I even included a video to add some personal attention. Here's where the one-point rubric comes in.
One-Point Rubric: Mastery is Mastery, the Rest Need Specific Feedback
We use the Canvas Learning Management System at Miami. I input all of my learning objectives and rubrics, and point values into Canvas before assignments are launched so students can see what is required of them and how they will earn points. When I grade projects in Canvas, this is what I see.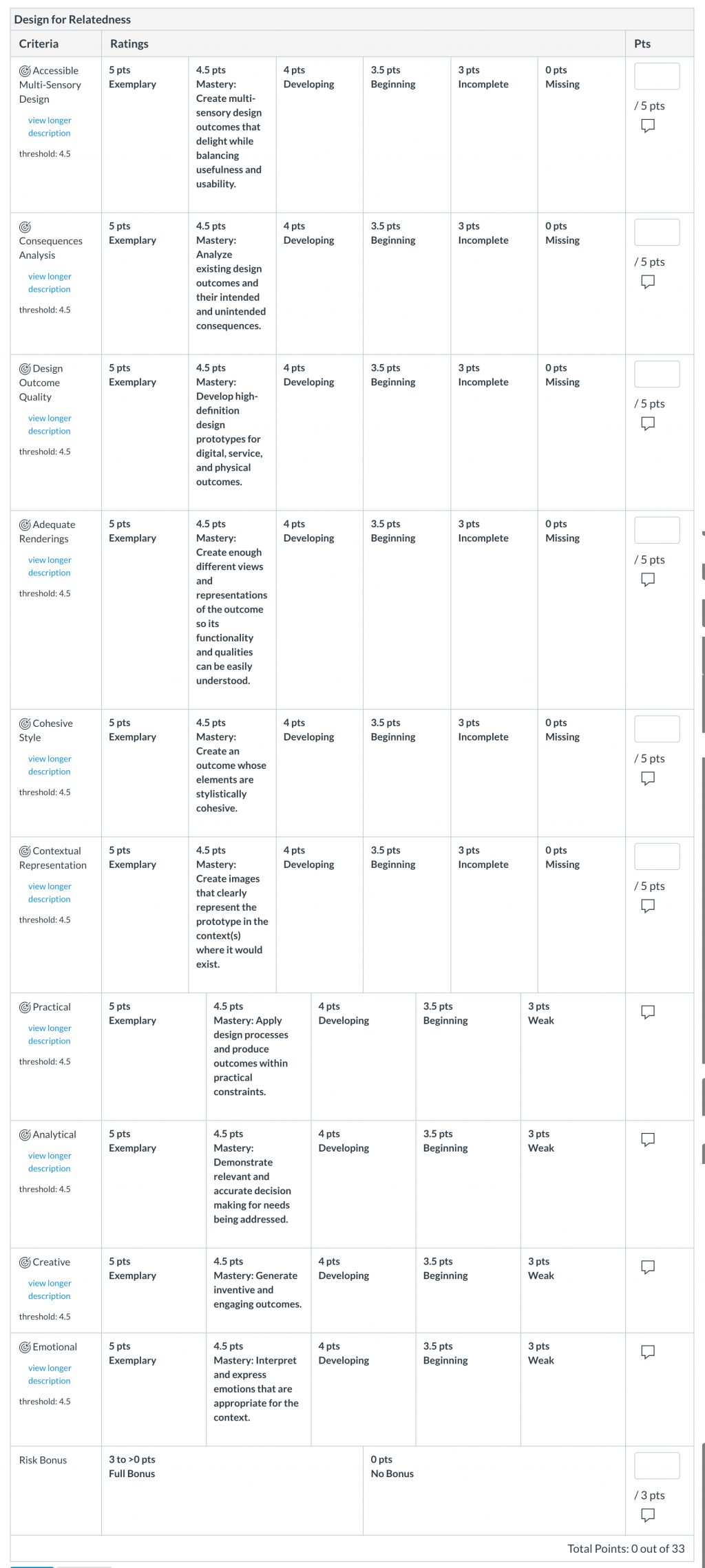 In this one-point rubric, the description for "Mastery" has been set, but Exemplary, Developing, Beginning, and Missing are empty. Notice how each of the learning objectives listed in the assignment sheet also appears in the rubric. Imagine that! I am evaluating only what I said I would when the assignment launched. How's that for transparency? ❤️
When I evaluate work using a one-point rubric, I do not have to give detailed feedback when learners achieve mastery. After all—if they mastered something, they mastered it! However, in cases where learners went above and beyond (exemplary) or are on their way to mastery (developing, beginning, etc.), detailed feedback is warranted. These are cases when I can tell learners why their work is more than I ever expected and how their work could improve as they approach mastery.
The one-point rubric focuses learning on mastery. If designers graduate and can say they have mastered dozens of learning objectives, I believe they will be well-prepared to do the work ahead of them in their careers and flourish as they grow beyond their formal education.
Assessment is not a four-letter word. It's a way for learners to know how well their knowledge, thinking, and skills are developing. It's a way for them to see where they are and where they need to go next. As an educator, it's also a way for me to get feedback on how well the activities I assign and the lessons I deliver are achieving their intended goals—to facilitate learning and empower learners to grow.
---
Many of the ideas in this post are not my own—they were developed in conversations with people way smarter than I am. Thanks to these people who have challenged me to be a more effective educator.
One of my mentors, Eric Ligon at the University of North Texas, challenged me to think like an educator, not just a designer. My colleagues and mentors at the Center for Teaching Excellence at Miami University through various Faculty Learning Communities. My friend and colleague at Miami University, Dr. Stephanie Baer, empowers learners and champions productive and transformative assessment. And my wife, Amy Cheatham, has been an educator way longer than I have and whose lessons I am still learning.