The State of UX: Presenting (and Learning) at HOW Interactive Design Conference in San Francisco
Conference Presentation
experience design
HOW Interactive Design Conference
interaction design
Publishing
San Francisco
user experience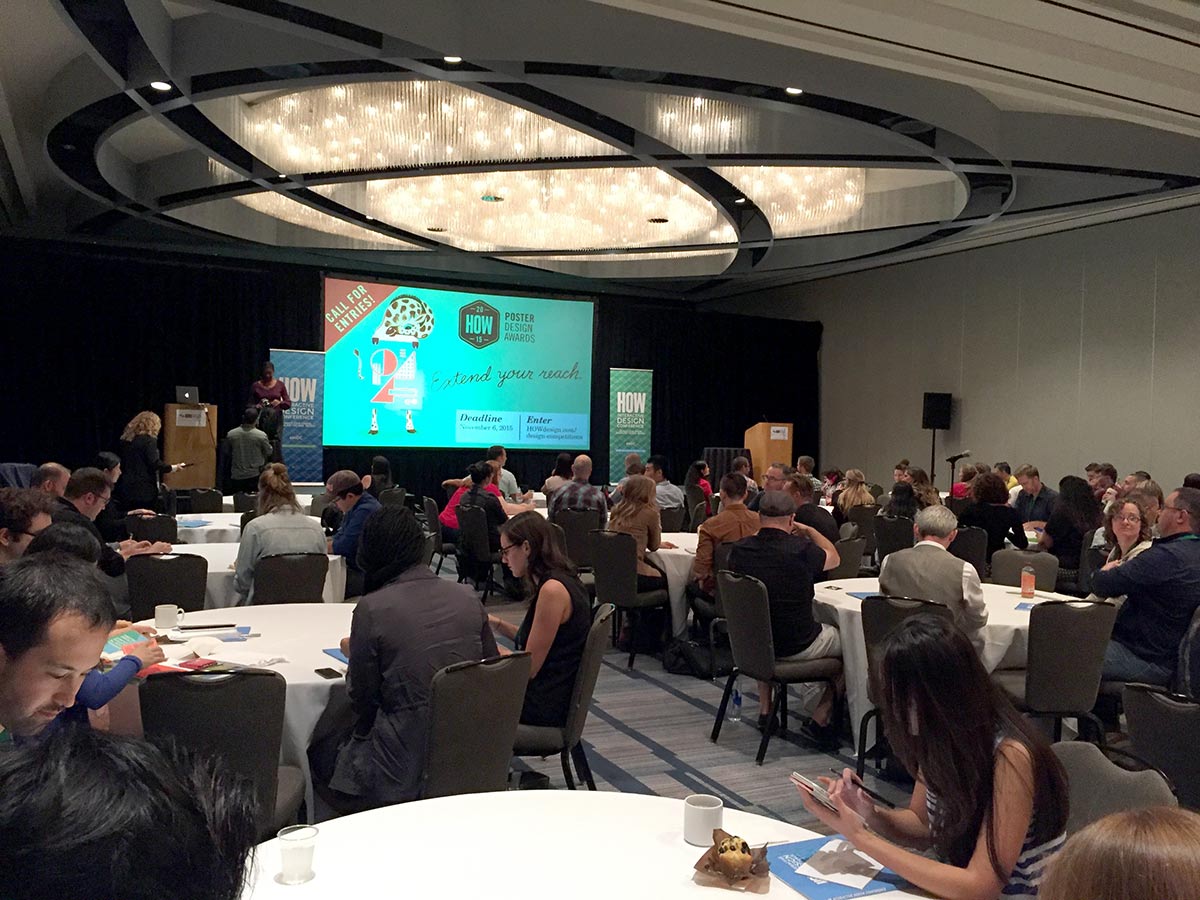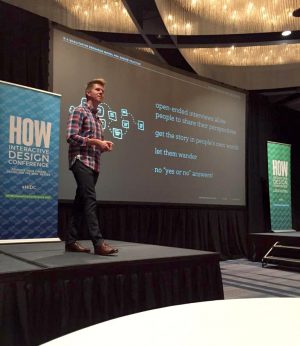 From September 19-22, 2015 I had the opportunity to attend and speak at HOW Interactive Design Conference in San Francisco. It was my first HOW Conference and an honor to present alongside internationally renowned interaction design practitioners and educators. My presentation was titled Research Your Way Into Users' Hearts and I shared how design research can reveal what matters to people. I've provided a link to my slides below, but this post is more about what I learned while in San Francisco. The conversations I had with attendees and presentations I heard refreshed my perspective of the state of UX/IXD/UX Research/Experience Design in several ways.
What the Heck Do You Call This Thing We're Doing?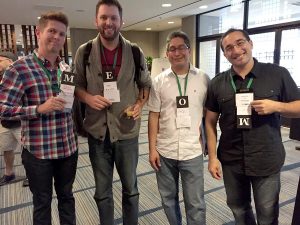 As you can tell from the long string of titles in the previous sentence—there's a lot of confusion about what to call the jobs people do in these fields. Patrick McNeil spoke on this topic specifically in his presentation UX Roles And What It Means For You Other design practices like graphic, interior, fashion design, and architecture have pretty clear characteristics and titles. But qualifiers like "interaction," "user," "research," and "experience" muddy the waters and they create a job title soup for those who work where they all intersect. I met User UX Researchers, Experience Designers, Interaction Designers, UX Designers, and others whose titles mixed and matched in all kinds of letter combinations. For the sake of giving these a collective name, I refer to them generally as "experience-focused design." No matter what people in these fields are doing, their outcomes are primarily focused on the end user's experience.
I think this lack of a clear definition/job title in experience-focused design is actually a good thing and a sign of design's growth. When combining visual design, human behavior, research, services, and technology, people are in the mix (instead of just cool typefaces, rad animations, and monetization). When human experience is involved in design, things get messy because experiences can be hard to measure, but at least these designers are thinking about the humans on the other side of the touchscreen (which has not always been the case in our practice). The concrete of experience-focused design hasn't quite been set. It's soft, pliable, and open to new tools, methods, and ways of thinking. This is exciting stuff… as long as designers remember that the whole purpose for that concrete is to enable people (of all walks, rolls, strolls, saunters, you-get-the-idea) to go where they want to go.
Unicorns Exist.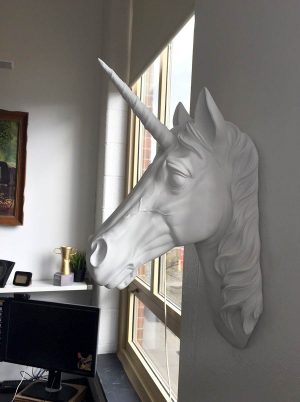 Experience-focused designers and their teams are being asked to possess lots of different skills. Check out job postings and requirements list bullet points in computer science, visual design, and social science skills. These dots all connect to outline what seems to be a mythical do-it-all designer, and the term "Unicorn" got thrown around a lot during the conference to capture this. While "Unicorn" is a Lisa Frank Check out some fascinating Lisa Frank facts at Lisa Frank at Mental Floss. kind of way to say "unrealistic," I'm not so sure it is. Over the course of the conference I gabbed with people who fall into the Unicorn category—they possess a range of kills and interests that seemingly don't belong in the same person. A few folks who sought out my advice didn't have Unicorn skills yet, but they wanted them and they knew the right questions to ask on how to find them. So while "Unicorn" seems to be the favorite joke of the industry, it's being told by people who have Unicorn-type skills. This is encouraging, and here's why:
In Operating Manual for Spaceship Earth, Buckminster Fuller spoke of Unicorns (though not in those precise terms). In this visionary book, he talked about how the world needed to change for the better and what kind of people it would take to get there. He posited that the "Renaissance Men" I take issue with "Renaissance Men" and would like to remind you that there are women and people of all abilities who are Renaissance thinkers and doers. of the past were successful because they had many, varied skills. He noted that this allowed Renaissance People to see the world at a systems level because they had a broad range of knowledge. This allowed them to see how things connect, overlap, and intersect. Fuller, R. Buckminster. Operating Manual for Spaceship Earth. Zürich: Lars Müller, 2008. Available at Amazon.Fuller's conclusion was that generalists instead of specialists were the hope of the future. Over the course of the conference I bumped into a lot of generalists and it made for some fascinating conversations about design and people. Experience-focused design requires a range of skills that transcend traditional disciplinary boundaries and ways of thinking. For this reason, I think those with experience-focused design knowledge have great potential to be leaders for design as it continues to broaden its gaze past only the aesthetic.
Humans First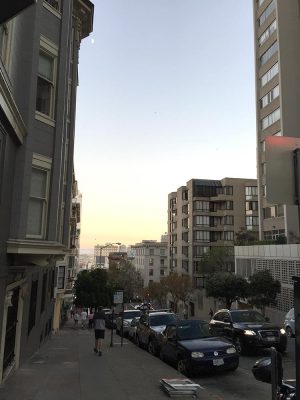 HOW Interactive San Francisco was a design conference where attendees and presenters understood that experience-focused design is human-centric. I'm used to sitting in audiences at conferences listening to presenters talk about how their work was done with a focus on really nice typography or fancy embossing. I've got nothing against those, but it was refreshing to hear presenters and attendees talking about human-centered design first. Presentation topics like Joel Beukelman at Google, presenting Your Bias is Bullsh*t, Josh Payton from HUGE encouraging attenders to avoid technology tunnel-vision and learn to adapt, and Ashleigh Axios, Digital Creative Director at the White House sharing how technology helped facilitate meaning and clarity in communication when she could have done a dog-and-pony show of "look at the cool stuff we designed." Most presenters talked about humans first, and the same went for the conversations I had with attendees.
Developing Experience-focused Design Education
Several presentations at the conference were given by design educators from across the world touching on many aspects of experience-focused design. Patrick McNeil presented UX Roles And What It Means For You to address the title soup I mentioned above. Brittany Schade from Western Washington University presented User Experience Methods For Designing With Empathy highlighting the importance of human-centered design and how she has implemented it in her teaching. Brian Lucid at Massey University presented Front End Frameworks And The Death Of The Web where he spoke on the dangers of frameworks (think Bootstrap, Skeleton, Foundation) and how relying on them has homogenized web design. I benefitted from hearing each of these presentations and together, I think we presented a unified voice that design educators are exploring experience-focused design in our classrooms.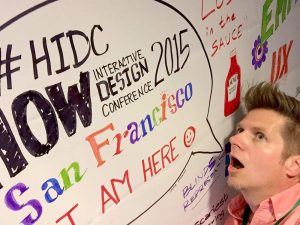 I also spoke with several design educators, recent graduates, and prospective students from across the country and while we noshed on falafels, etc., our conversations wandered back to experience-focused design education. In an area where tools change more rapidly than Adobe's versioning of Creative Cloud, where human behavior and interaction are palpable factors, and aesthetic is the language that engages users in relevant ways, design education can fail learners by ignoring any one of these three components. Our conversations often focused on how design education can faithfully address so many aspects of experience-focused design as it continues to evolve. I look forward to future collaborations and talks as we all "build the plane while we fly it." I also hope we can continue to connect with practitioners doing this work—to share what we're exploring in design education and to learn how practice is evolving. It's a partnership that's proven mutually beneficial. HOW Interactive was a place where those connections happened and I look forward to future events.
---
---
User interfaces and content alone don't delight people—memorable experiences do. But in order to develop experiences people love, designers must discover the details that matter to target audiences. In this session, you will learn ways to research human behavior that can inform the definition of detailed personas and the development of interactive, service, and branding design solutions that delight.
In this session, I'll share accessible research methods for studying human behavior and processes for converting them into actionable design outcomes. We'll review research methods that can be operated quickly and will sort out when to use them and for what effect. This session will cover what to look for in collected data and how to convert findings into insights that can direct the development of experience design outcomes. I will also cover how collected data can support design decisions to project stakeholders and can keep creative teams focused on a cohesive message over the course of a project.
When design starts with researching people, what matters to them comes to the surface. It's a journey of discovery that can inform design outcomes that strum users' heartstrings.