Discovering Marfa :: Discovering Myself
fort davis
inspiration
marfa
texas
video
Last week I was in Marfa and Fort Davis for a long weekend of creative solitude and regrouping. I expected to do some camping, see some art, explore some restaurants I'd wanted to try in Marfa, and fall asleep in camp chairs a few times while reading my backlog of Wired magazines.
I was not disappointed, but my weekend and my trip took turns I had never expected (it's a good thing).
On Friday I visited the Chinati Foundation to see some modern, minimalist art – most of the pieces were large installations that would never find their way into city museums because they'd be far too expensive per square foot. The collection was diverse, challenging, and at times, unexpected. From Donald Judd's aluminum works to Dan Flavin's fluorescent pieces (and all of the high desert views in between) the tour was enlightening and made me feel as if I was discovering something rare. I won't go into all of the details but I will leave it at the statement that you should go.
And you should go to the Chinati because it's a big part of the fabric of the town of Marfa. It's a strange balance of West Texas and of the artist community, and that makes Marfa an out-of-the-way oasis. I had eaten in Marfa before and was prepared to be surprised. My only "must eat" was Food Shark, which brought a falafel (that's Marfalafel, to you) that had spunk. The food carried a depth of flavor from a falafel I hadn't experienced before. Topped with yogurt and seasoned so waves of spices trounced my tongue as I bit into and chewed the thing. Oh, and this was prepared in a food truck  (you must see their commercial). But as good and as unexpected as the Mediterranean menu was, the real surprises were sitting across from me at the Judd-like communal table.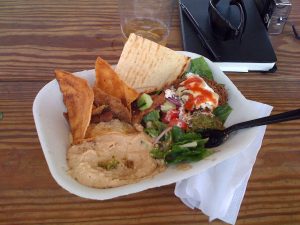 While I sat at the table jotting down thoughts and ideas I stopped and, in true West Texas form, a Marfan named Jim started up a conversation with me. We talked about design, the community, the food, and I asked what someone who's new in Marfa shouldn't miss. Having learned I am a writer, Jim invited me to a poetry reading by a well-known poet in residence Kevin Prufer at the local bookstore, Marfa Book Company. While the Chinati Foundation offers artist fellowships, the Lannan Foundation also has a residency program in Marfa, but this one is for writers.
The poetry reading was excellent. I write poems to be read aloud, and while I'm writing I consciously think of how they will sound. Hearing Kevin read his poems and talk about his process was enlightening and made me want to leave the store and grab my Moleskine to jot down my next batch of poems. But looking around the room I saw a diverse "be who you are" room of people. You know how your high school counselor (and Genie from the Disney movie Aladdin) told you to "be yourself?" Well, these people actually did it. They were themselves, and I felt like I could truly be myself as well. In a big city like Dallas, that's a rare thing but in Marfa, people were comfortable in their own skin.
Following the reading, I attended a reception where I met more Marfans, artists, visitors, and big-city escapees like myself. I was elated that it was catered by Food Shark (The spread on Flickr, as well as the menu). The residence was a charming house – a place where I could imagine spending time writing and creating things only possible if you have a lot of time to "waste." But it's no coincidence that the program is located in Marfa: there is a magic about that high desert town.
The people are excited about their creative work, their town, and how Marfa can be a welcoming place for those who wish to create. I've visited places like this before, but not so small a town that the strengths of the community aren't watered down by other agendas and motives. As a whole, the people I encountered cared about what is happening in Marfa and they're proud to share it. I was disappointed that the night had to end. I was inspired by the creatives I met and their passions to excel in their work. When someone loves what they do, and they do what they're made to do, it can't help but show.
About a year ago I saw a short film by You and Yours Productions on Vimeo called West Texas. It was a simple film capturing the sounds and impressions of Marfa and surrounding areas. It made a huge impression on me and I return to it to remember the area and to escape to minimalism. While in Fort Davis, driving the scenic loop I had a hankering to make my own if only so I could make something to return to when I needed to get back to the mountains and my time to escape. I only had my point-and-shoot with HD video capability but I figured I'd try it anyway. Next time I'll bring a proper mic and pop filter.
Capturing one of my favorite places on the planet was a lot of fun. It challenged me to think visually in a way I miss out on when doing design every day. Of course, I took a lot of stills as well.
The entire weekend was a reminder that, as a creative, I must work to maintain the wide-open, still spirit of Marfa when things get so hectic and overwhelming. My craft, sanity, and family will benefit. Quite simply, discovering Marfa was a rediscovery of myself.
So, when are you headed west?