Get the Vuvuzela Out!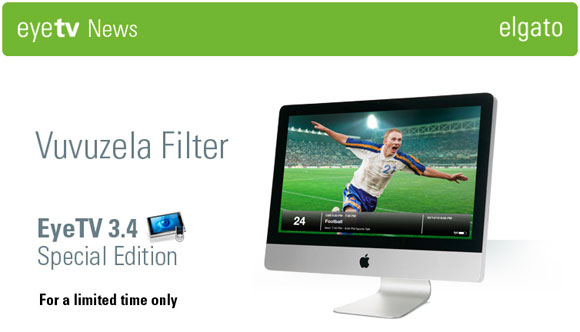 Yesterday I received an unlikely update e-mail from Elgato, makers of the innovative product eyetv hybrid) among others. The software allows you to view television on your Mac, but also acts as a digital video recorder (DVR) and can shift your video to devices like iPad and iPhone. Neat stuff.
The "Special Edition" update has a singular purpose: dampen the buzz of vuvuzela horns heard in the stadiums where the 2010 FIFA World Cup is being played. Here's the text of their e-mail:
A special edition of EyeTV 3.4 software is available during the 2010 FIFA World Cup that offers a new feature called the "Vuvuzela Filter". This filter gives you the option to dampen the buzz of vuvuzela horns in the stadium during live TV broadcasts; it can be quickly switched on and off at any time during the game. To use the filter, control click to bring up the contextual menu in EyeTV.

Click here for a quick demonstration of the Vuvuzela Filter in action.

The Vuvuzela Filter is available in EyeTV for a limited time only, and will disappear with the next software update – after the 2010 FIFA World Cup is over.
I've only watched the World Cup on the internet, and only for small stretches so I haven't suffered the buzz of the horns like many fans around the world have. But Elgato's update tells me three things:
This is a company who is very sensitive to their client's needs and can move quickly to add an esoteric, but appreciated feature.
There must be a lot of football fans using eyetv (or at least, the developers love football).
Those horns are really annoying.
Props to Elgato for thinking on their feet. I'm sure the football fans appreciate the effort and that by offering this update, Elgato has won their hearts all over again.