Textbooks and Amazon: BFF
amazon.com
back to school
books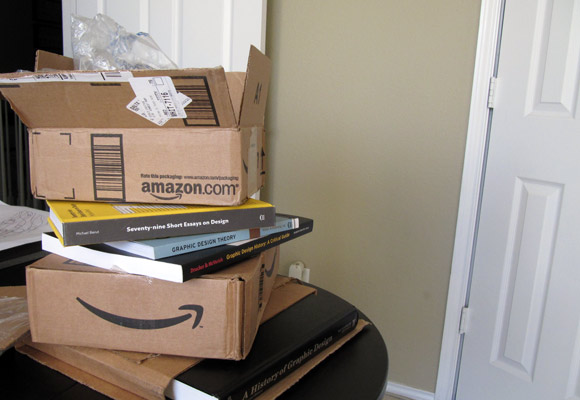 One of my favorite parts of gearing up for a new semester of classes was going to the bookstores at Texas Tech to buy my textbooks and supplies. If you've ever done this (or attended SXSW or waited for a Ride on Space Mountain in the summer) you know what a horde of people looks like. When I was buying textbooks as an undergraduate I was using someone else's money, which probably added to the joy of the exercise, but even when it's my turn to pay for the whole enchilada I still feel that excitement… with special thanks to a promotion at amazon.com called Amazon Student.
Let it be known: I am an amazon.com junkie and have been an Amazon Prime subscriber for about three years. Here in Texas, there's no sales tax on amazon.com purchases and they always arrive on time. Amazon Prime is a service where you pay $79 once and you get free 2-day shipping on anything Amazon sells for a year. For example, I've bought a cooler, a hedge trimmer, tea bags, an Iron Man 2 Turbo Racer, Chanel Perfume, and a shop vac (these last two were both gifts for my wife) all shipped without additional cost. Add textbooks to that list. Brilliant!
My, how things have changed. Seventeen years ago I would be hiking to the bookstore to get my overpriced books and supplies but now it's as easy as ordering online and having them shipped. I may miss the smell of the bookstores on and off-campus at UNT but I don't miss the prices. I've been able to buy all of my books at a significantly reduced price and some of them are in perfect, used condition. In every case, the new book online was less expensive than a used book from the bookstores. But bookstores, do not cry. I have visited you already and I have purchased a shirt or two. You are not forsaken.