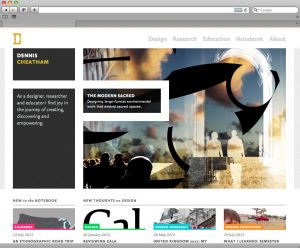 As something of a living experiment, I designed and developed this site in late 2011 using WordPress as a content management system and the WordPress Twentyeleven theme as a starting point. In 2011, Media Queries and responsive websites were just emerging and I used this site to explore how to design responsively.
The site was redesigned in 2015 to take advantage of CSS flexbox and again in 2020 to add CSS grids. I've learned a lot from the process. The knowledge gained from these experiences has been implemented into teaching interaction design and user experience design.
Serif Typeface
Cala by Hoftype
Sans Serif Typeface
Verb by Yellow Design Studio
Web Hosting
Dreamhost
Powered By
WordPress
Let's Go Back In Time
I believe in learning through doing. I am a self-taught front-end coder because I started designing for the web in 1997 when web browsers were first invented. Check out a few examples of my early work.
March 1998 while I was an undergraduate student at Texas Tech
July 1998 after graduating from Texas Tech in 1998
October 1998 Wedding Central website