Experience Design: Walt Disney World
Disney creates magic for guests at the Walt Disney World Resort every day. But this magic isn't pixie dust stuff; it's a combination of extraordinary Guest service, detailed design, and immersive storytelling that anyone can summon if they know how it works. Join us as we uncover the fundamentals of Disney design magic so you can create it in your projects outside the berm.
Join us for Experience Design: Walt Disney World this summer!
Dates and Cost
Experience Design: Walt Disney World, ART 436/536 is a six-week, three-credit-hour course offered by Miami University. Students can earn undergraduate or graduate-level credit for completing this course.
Dates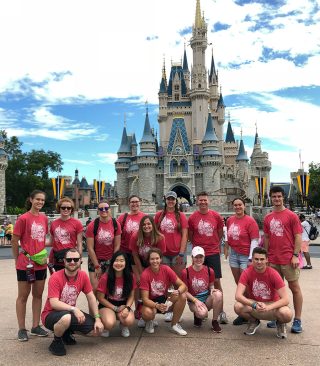 Most coursework is completed online asynchronously. The class will meet twice via Zoom, and students will vote to determine when these meetings will occur. Usually, these meetings are during the evening to accommodate work and family schedules.
Here's our class meeting schedule:
Online: May 17–June 8
At the Walt Disney World Resort: June 9–15

Check-in June 9 before 6 p.m., check out on June 15

Online: June 16–25
Application Deadline: April 15, 2022. Deadline extended to April 30!
Cost & What You Get
The program fee for the on-site experience at Walt Disney World is $1,129 per student.
Students will receive:
Six nights at Port Orleans Riverside Resort

Woods View—5th Sleeper Rooms. Triple occupancy. 2 queen beds and 1 child-size pull-down bed

Five Day Park Hopper Premium Pass
Theme Park Design Workshop

Presented by Disney Imagination campus

One dinner at Biergarten Restaurant
Commemorative Experience Design: Walt Disney World T-shirt
Students also pay tuition, depending on their undergraduate or graduate standing, and other administrative fees. Visit the Experience Design: Walt Disney World official website for specific costs.
Who Can Take the Course?
Anyone can take the Experience Design: Walt Disney World course and participate in the on-site program. You do not have to be a current Miami University student to apply.
What Does This Course "Count" For?
Experience Design Walt Disney World is an approved elective for these programs at Miami University:
The course may count as an elective for other majors and at schools other than Miami University. Ask your adviser if this course can count toward your plan of study.
Deadline to Apply
The deadline to apply is April 15, 2022. Deadline extended to April 30!
Information Sessions
Join me for an information session via Zoom:
What You'll Learn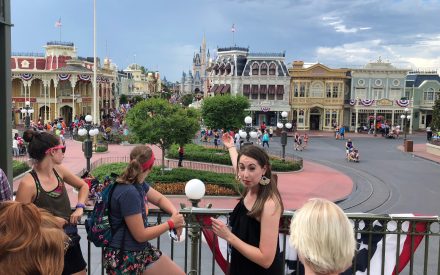 This course combines design research skills training, immersive storytelling techniques, and Guest service principles. In this course, you'll develop the ability to discern how design such as smartphone apps, sound design, architecture, services, and graphic design can great create experiences for Guests. We'll explore how Disney uses human-centered design principles to design parks and services for accessibility, usability, and delight. When you leave the Resort, you'll have a wealth of ideas on how you can create magic using design. You'll know how Disney Imagineers do it. And you'll be exhausted from having so much fun.
What We'll do at the Walt Disney World Resort
While on-site, you'll participate in in-person and virtual meetings and complete work independently. I mix it up so everyone has plenty of face-to-face time with me and can customize their learning experience based on their interests. Here are a few things we'll do while at Walt Disney World.
Ride and Recaps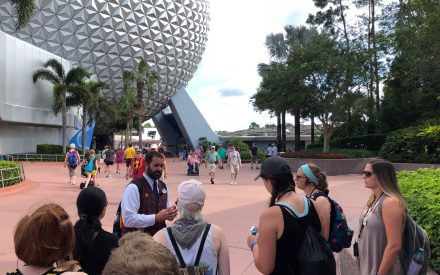 Experience an attraction with your professor, then recap it! Each day, I host at least one Ride and Recap. Students are required to complete at least five during our visit. Ride and Recaps include:
Jungle Cruise: Reversing Stereotypes: How Disney pivoted an attraction into a (Dad joke) legend… and how Disney is revising attractions to reduce cultural, gender, and racial stereotypes.
Haunted Mansion: Performative Labor: How Cast Members don't just operate the attraction, they make it truly memorable.
Typhoon Lagoon: Whole-Park Storytelling: How Disney Imagineering weaves the story into everything they do. We'll explore how the smallest details in every corner of Typhoon Lagoon tell its story.
Pin Trading: Manufacturing Exclusivity: The power of mementos. How Disney riffed on an Olympic tradition to create scarcity and exclusivity that encourages collecting behavior.
Star Wars: Galaxy's Edge: Immersion That Spans Design Practices: Immersing guests in the story and expanding the Star Wars universe by combining physical environments, costuming, performances, and the Play Disney Parks App.
The Hall of Presidents: Rhetoric and Patriotism: How Disney tells the history of the United States through its presidents. We'll discuss the show's rhetoric and the audience's response.
Harmonious: Intended and Unintended Consequences of Design Decisions: A nighttime sound and light show that tells a story of inclusion and unity at the expense of its impact on the park's experience during the day.
EPCOT: New Worlds: Maintaining Show During Refurbishment: Exploring ways Disney strives to maintain Guest experiences during a massive refurbishment where Future World is becoming a new set of "world"-themed lands.
Mission: Space: Giving Guests Control of Their Experience: Learn how Disney informs Guests about what they are about to experience.
Animal Kingdom: Creating Discovery Through Landscape Design: How Disney creates a sense of discovery by reducing sightlines.
Port Orleans Resort – Riverside: Storytelling Through Architecture: Storytelling through architecture. How a story can drive subtle design details where you'd least expect them.
EPCOT World Showcase Sounds: Soundscapes That Enhance Experience: We'll walk with our ears through a few pavilions in World Showcase to learn how Disney uses area music loops to create immersive environments.
Guardians of the Galaxy: Cosmic Rewind: Combining Story and Thrill: We'll ride this brand-new attraction, and we'll discuss how well it balances thrill and story while maintaining EPCOT's message.
Daily Assignments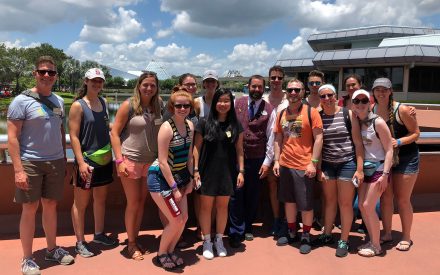 Students get a different prompt to direct their experience in the parks and resorts every day. These prompts include:
Accessibility: Find examples of ways the parks and resorts accommodate people with a disability or dietary restrictions.
Multi-Sensory Design: How does Disney design for the senses—all of them!? Find examples of how Disney designed for all five today.
Fun For All Ages: You received a proto-persona today, aged between toddler age and 84 years old. What features of the parks and resorts would allow that persona to have a memorable experience?
Selling It: Where does Disney create opportunities to purchase merchandise and services during these three moments: when entering the park, when bored/during a lull, when leaving the park.
Leaving the world and Entering the World: When you arrive at the Walt Disney World Resort today, what about being "on-property" makes it feel like you left the "real world" behind?
Slackshare Scavenger Hunts
We'll use Slack for a few synchronous scavenger hunts during our visit. No need to change your plans—do the Slackshare wherever you are in the parks and resorts!
The Walt Disney World Compendium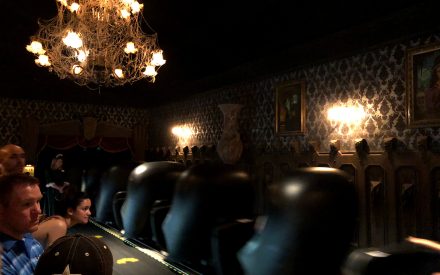 Everyone in the class will report their findings at the end of the course, a few weeks after we return from Florida. I call it the Walt Disney World Compendium. Before we travel to the Walt Disney World Resort, everyone in the class selects what they will explore while there—the things they will be an "expert" about. Each student must choose one of each of the following for their compendium report:
One land

Examples: Adventureland, Japan, Hollywood Boulevard, Pandora

One attraction
One dining experience
One service
One in-between

Examples: the drums at Africa Outpost, the stocks in Liberty Square, the totem pole look-throughs in the Canada pavilion

One Cast Member interaction

Examples: any interaction with a Cast Member that exemplifies the Disney experience
For Graduate Students Only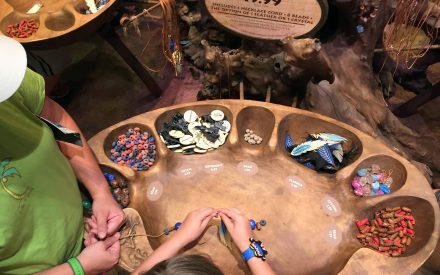 As a part of xdMFA, the MFA in Experience Design at Miami University, Experience Design Disney is designed for graduate study in Experience Design. I plan special activities for graduate students throughout the course, and these students are expected to produce more detailed and rigorous work than their undergraduate counterparts.
While at the Walt Disney World Resort, graduate students participate in additional activities designed just for them.
Pre-Trip Poolside Chat
Graduate students are invited to join me by the pool at the Port Orleans Riverside Resort to chat about Disney and get to know one another.
Applying Theory in the Parks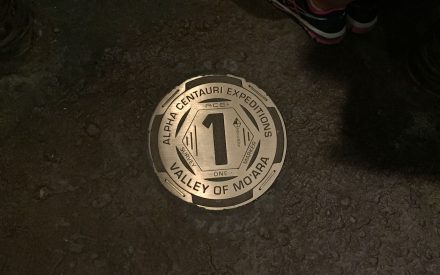 Students select theories from various disciplines and apply them while exploring the parks that day. We begin the day with a graduate student breakfast to set up the day. Students select theories from a list that includes:
Social Cognitive Theory
Theory of Planned Behavior
Equity Theory
Uncertainty Reduction Theory
Cognitive Load Theory
Attribution Theory
Gatekeeping Theory
At the end of the day, I get back together with graduate students for a snack to discuss what they learned. During this discussion, we share how the design of the parks impacts human behavior.
Plussing It
Walt Disney used the term "plussing" to describe improving Disneyland. After Ride and Recaps and a few times during our visit to the Walt Disney World Resort, I "plus" graduate student activities with an additional exploration into each Ride and Recap.
Why Me?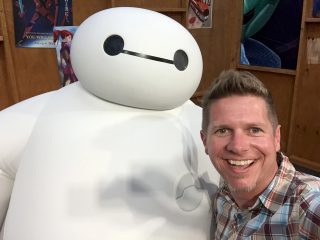 After researching and teaching Experience Design at Miami University for over eight years, it's clear that magic happens when lots of different kinds of design come together—apps and graphic design, and services. I've been creating experiences ever since 1998. I learned outrageous customer service when I was a writer in Customer Relations for Southwest Airlines. I designed and built physical displays, directed lighting, worked with architects, and designed services for Irving Bible Church and HKS Architects. Today, my research melds the social sciences and design to help people complete advance care planning for the end of life.
Oh, and I am a Disneyphile. Yeah, there's that. Right now, I am listening to area loop music from the parks.
Let's Study Design and Disney!
Join me this summer! The application deadline is April 15, 2022. Deadline extended to April 30!